Our unique, effective and certified French method
Swiss French School has developed a unique method to learn French based on the process of learning a mother tongue: first, you listen, then you repeat and finally, you practice. Once you have mastered the sounds, you will study the grammar. This method really works and it's certified!
Your learning process
Interactive lessons
The interactive lessons will help you learn the vocabulary and the pronunciation through real life situations on a multimedia platform. You will have the opportunity to develop listening skills and vocabulary that you have learned in the lessons. All of your work will be available online and offline from any computer, at our center or at home.
Digital Books
Once you have completed the interactive lessons, you will be directed to the Digital Book exercises. Here you will have to complete different exercises based on the vocabulary you have acquired during your lesson. Don't worry, your teacher will give you feedback during your exchange.
Exchanges
"Exchange" is the term Swiss French School uses to name the class with a teacher. These classes are made up of 3 to 5 students of the same level, allowing you to feel comfortable when practicing the language. These courses are given by native French teachers who will help you improve your pronunciation. Once the exchange is over, you will be able to access the next interactive lesson.
Workshops and Social Clubs
Workshops are activities that focus on specific areas: grammar, conversation, business French, etc. to allow you to improve your skills in all these areas. These courses are optional and are intended to build on and consolidate the skills you have learned using the method. It is recommended that you take one per unit.
The Social Clubs allow students to improve their French by living it through everyday situations, such as having breakfast, dinner, drinks, etc. These social activities are organized to bring together interested students in a convivial and friendly atmosphere.
A student can participate in all the workshops of his or her level.
Our method
Our method helps you optimize your learning. We offer you every possible opportunity to practice French.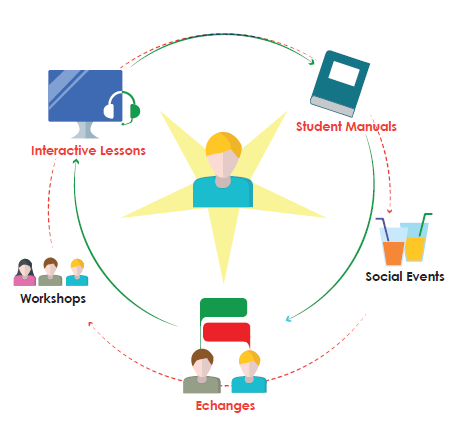 Lessons with a teacher
Small groups of between 3 and 5 people
You speak more than your teacher
There are no wasted lessons
Improve your practical skills
Social Clubs
Fun activities with a teacher
Immerse yourself in the French language
Speak French with other students
Meet new people and socialize!
Interactive lessons
Prepare your lessons at your own pace
Receive support throughout your learning journey
Speak for more than 60% of the time
Deepen your knowledge